have you ever thought that every day in the week made tomorrow Friday? Now that Friday is here it doesn't seem like it, not that I have really wanted it to be Friday anyway--does that even make sense?!
ANYWAY! I do have some FUN creations I made with the September Sampler kit from
Precocious Paper
. First off I wanted to show you what the kit looked like: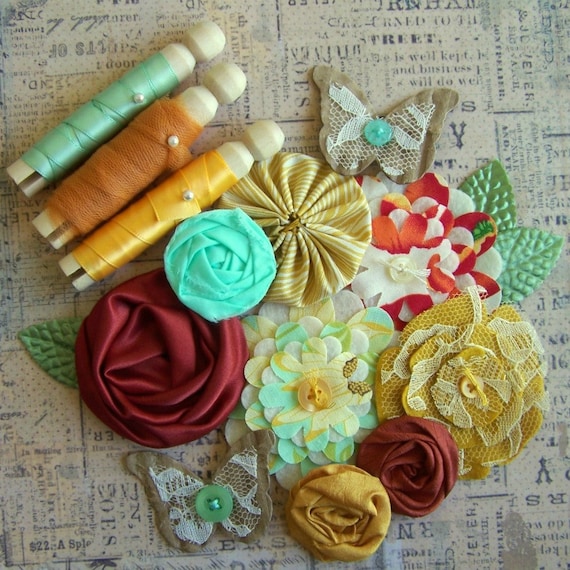 Yummy isn't it?! You can see all the details in Tessa's etsy shop
HERE
. She has some BEAUTIFUL things there, you need to RUN and check it out! From what I understand it's selling quickly....
(this pattern paper on this card is from the Good Life kit from
Scrapbook Circle
--matched PERFECTLY)
here is what I created:
this card was so fun it came together slower than the first, it was like adding seasonings to your food. A little bit of this and little bit of that and :
I actually came up with the hair clip first layering up some of the elements in the kit, then decided wouldn't it be fun to add it to a card?
Yes, this is a 8 1/2" x 11" layout that I made! I seriously haven't made one of these in about 5 years! It was so fun to challenge myself to do the smaller size. This picture is of my girl ON her birthday (remember this was my first day of my photography class, so I was taking ALL sorts of pictures....)
It was just fun to do something simple.....and again these flowers--YUMMY!
something kind of exciting...yesterday one of the teacher's at my boy's school called and asked if I could come take pictures for NFL day. I was honored and a little nervous, then terrified as I climbed a ladder to take a HUGE group shot of the kids spelling out NFL. I guess if they win they get some $$ for the school from the NFL, no stress that these pictures need to be good....Not so pleased with the huge shot but I liked the random kid shots I got. sorry can't share as I don't have permission...but it was a fun experience that I wouldn't mind doing it again, maybe withOUT the ladder!
I am off to the school again! It's grandparent's day and I want to get some fun shots of the kids with my parents, THEN I get to help in the classroom, THEN I get to help chaperon the Jr. High band at the high school as they play at half time (pretty excited about this! Not only for my girl, but because they are playing my Alma matter! go JACKRABBITS!!) Yep, it's Friday alright and I'm BUSY--but glad to be! Thanks for popping in!