I LOVE how this turned out! This is for my mom for her birthday, (she celebrates this month)-no, she doesn't look at the blog....if she happens to.... well, mom Happy Birthday!!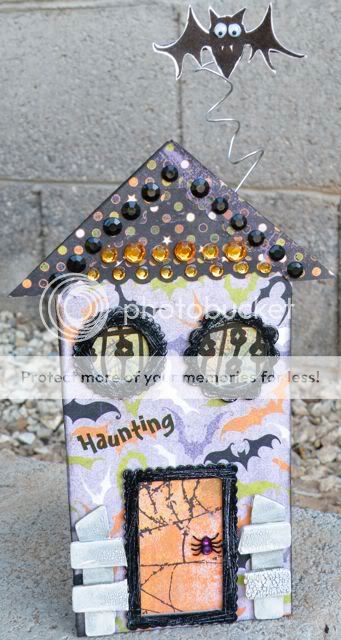 The bling, rubons, stickers, chipboard, and fence are from my own stash. I bought this house pencil box at Michael's on clearance a few months ago with the intent to do just this!
*Oh, the wire (I couldn't find mine anywhere!) I used a paper clip and twisted it around a pen.
*Also, I had to chop the ends of the fence, it just wouldn't fit. It was initially just white, but I painted it with crackle paint by ranger then inked it with white ink.
*For the windows and doors I used American craft chipboard shapes. I sanded them just a bit then painted glitter glue on top (you can't really tell from the pictures.) The windows were a little trickier. I placed bars stickers over the top of the paper, then layered the windows over that.
* for the roof I used my fiskars border punch. (again you can't tell from the picture)
*the bat is actually a sticker that I layered up on some cardstock to give it some weight.
I'm just so glad that I didn't wait until the last minute to do this! I had some advisory help from DD on where to place some things, so it was a family affair! I even have enough paper to make a card & bag to match! I'll have to work on that today.
Thanks for stopping by!
supplies used:
pattern paper: Basic Grey
fence: from $1 wood bin at Michael's
pencil box: Provo Craft
stickers & rubons: Joanns
chipboard shapes: American Crafts
brad: Making Memories
jewels: unknown (Michael's)
googlie eyes: westrim
punch: fiskars
glitter glue: ranger
ink: stampin' up
paper clip